Puppies!
5 black and 2 yellow pups born May 18!
We have finally decided on the pups we will be keeping from our current litter.
Please contact us about pups that were not previously made available to families.
For more info, contact Mark at mld@aragornlabs.com.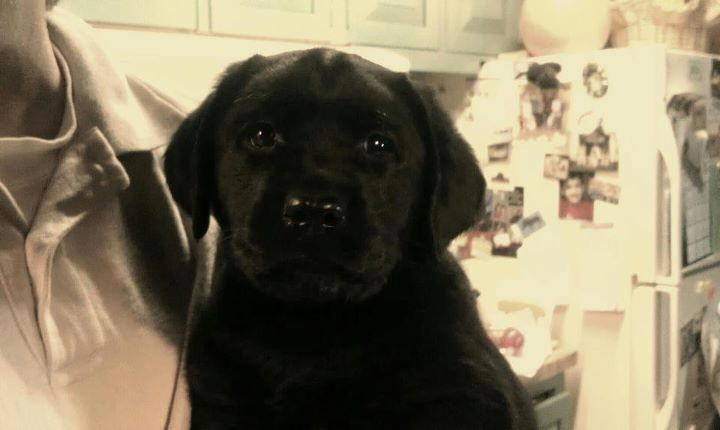 We have approximately one litter per year. All pups are sold with a spay/neuter agreement and a written health guarantee. All breeding dogs are OFA hip and elbow certified, CERF's for eyes, as well as Optigen and EIC tested – unless we know the status due to lineage. We encourage visits, especially before the pups are born, in order to meet our family and dogs. (Please do not visit directly after viewing another kennel due to the potential of disease transmission.) We encourage – but don't require – repeated visits when the pups are between 4 and 8 weeks old.
When the puppies go to their new homes at 8 weeks old, they will have had their first puppy shots as well as having been routinely de-wormed. We promise that we try to have the pups well socialized by the time they go home. An inexpensive paperback that we suggest is called "What All Good Dogs Should Know: The Sensible Way To Train", by Volhard and Bartlett (published by Macmillian/Howell Book House). There are many good books that we can suggest as well. When it's helpful, we also try to help find references for obedience trainers and veterinarians as we have contacts in many areas. In addition, there are many great foods that we can use and recommend.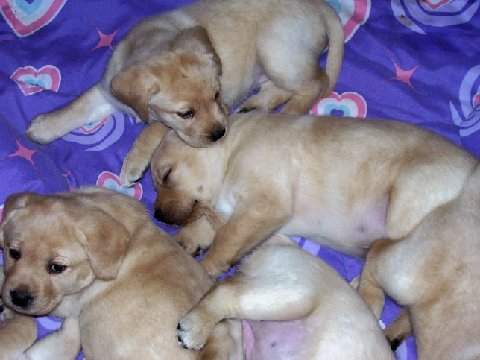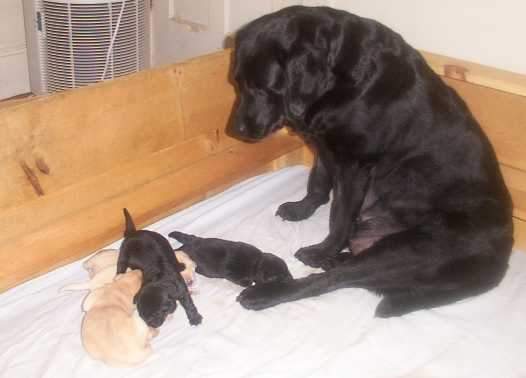 We like to keep two pups whenever we have a litter, although usually only one will become a permanent member of our family. We spend as long as a year or more making this decision.
Therefore, we often have pups ranging from 4-5 months to a year or so old that we make available to other families. Occasionally, we have adults available for placement into pet homes. Please email us for more information.
Joint ad other health evaluations can be researched at the Orthopedic Foundation for Animals website. You can do searches by dog's name, kennel name or by AKC registration number. After you've found the records for a particular dog, you are linked to parents, siblings, offspring etc. www.offa.org
Please feel free to email us at any time with puppy questions. We can provide you with information about our upcoming litters but are also glad to recommend other breeders or just discuss Labradors.